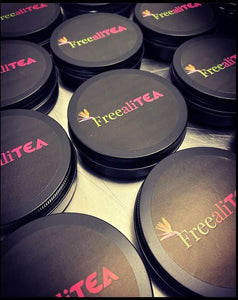 FREEALITEA
FREE Your Chakra Aromatherapy/ Massage Candle
Regular price
$15.00
$0.00
Unit price
per
Immerse yourself in the harmonizing world of
FREE your Chakra Coconut Soy Candle
Awaken your senses with bright top notes of green florals and crisp, fresh leaves that dance playfully in the air. As the fragrance envelops you, you'll feel grounded by subtle touches of wood and soothing vanilla, creating a perfect balance of tranquility and revitalization.
Designed to ignite the energies within, this delightful candle not only provides a mesmerizing ambiance but also doubles as a luxurious massage oil. As the warm, fragrant wax melts into a silky pool, unleash the calming properties of the coconut soy blend on your skin, soothing your senses and inviting relaxation.
Elevate your space and nourish your soul with this multi-purpose gem. Whether you seek a moment of tranquility, a soothing massage, or an invigorating aromatherapy experience, this candle is the key to unlock a world of blissful serenity. Let your spirit soar and your chakras align with FREE your Chakra Coconut Soy Candle.
---