• Michelle Clay • anxiety self-care • anxious • calm • destress • Dr. Michelle • Dr. Michelle Clay • herbal tea • meditation • New Orleans • stress management • stress release • stress relief • tea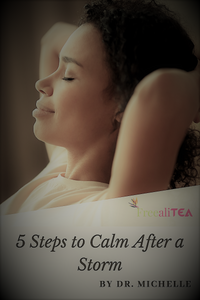 I often feel anxious about what is going to happen next and sometimes miss the NOW! Is there something you have fear and anxiety about that is holding you back or delaying your next? Are you ready to let it go and heal?
Release Recharge Tea has rosemary which has a positive clinical effect on anxiety, mood, and sleep.
Choose three go-to affirmations for various feelings and situations. Repeat them in between sips of tea and watch how your thoughts start to slow down.
---
• Michelle Clay • harmony • mindset • New Orleans • peace • recharge • relax • staycation • stress
in an effort to level-up my​​  stress FREELIFE, I was interested. Sometimes, you may not have the time or resources to plan a "get-away", but you can get away from it all right in your own zip code. I recently had an opportunity to take one at the beautiful NOPSI hot...