• Michelle Clay • anxious • mindset • quarantine • safety • stress • wellness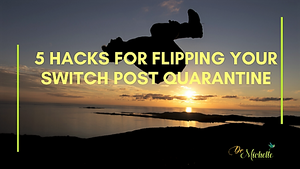 Depending on where you live, the #stayathome order has just been lifted and we are now on #safestathome. For those who are starting to venture out for the first time in a while, your mind has to "flip the script" so to speak. It takes flipping a switch in our mindset.
Everyone is talking about returning to "normal". I encourage you to create your own NEW normal which can help the transition to post-quarantine life a little easier.
---
• Michelle Clay • blood pressure • heart health • self-care • self-love • stress • stress management • valentine's day
  Greetings Super Wonder Women and those ready to live a FREELIFE on purpose and with passion FREE of stress. It's Dr. Michelle here sharing some tips to help you release stress simply and naturally. February is the month with all things related to matters of the heart. It's heart health month and Valentine's day.  Heart disease is the leading cause of death for women in the United States, accounting for about about 1 in every 5 female deaths.  One of the major contributors to the health of the heart or lack thereof is blood pressure. According to the American Heart  Association, the...
---
• Michelle Clay • harmony • mindset • New Orleans • peace • recharge • relax • staycation • stress
in an effort to level-up my​​  stress FREELIFE, I was interested. Sometimes, you may not have the time or resources to plan a "get-away", but you can get away from it all right in your own zip code. I recently had an opportunity to take one at the beautiful NOPSI hot...
---
• Michelle Clay • meditation • stress • stress management • work life balance
If you have the right mindset and perspective then you can make a shift, release your stress and face any situation with grace and ease. How do I know? Because this month has been a real challenge. I feel like I'm in the second act of a production without an ending to...
---
• Michelle Clay • detox • stress • stress management • trauma • well being • wellness
The stress response is the flight or fight response that occurs when feeling threatened and/or stimulated. If activated on a chronic basis, this can result in 'toxic stress' which can have long-term cumulative effects both physically and emotionally. How do you detox f...