• Michelle Clay • calm • herbal tea • herbs • lavender • lemon balm • relaxation • sleep • tea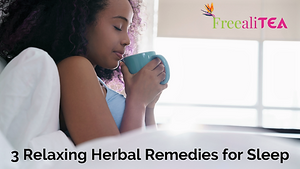 Many do not like to take the harsh medications that are prescribed for sleeping problems. But we can turn to plant technology as a safer way to alleviate symptoms and stress. 

Now you know I'm a rootworker; I like to get to the root of the matter and I work with roots – ginger root, turmeric root, dandelion root, etc. 
First things first, discover what is the root cause of the sleep issue. Is there a change in work schedule, life schedule, or overwhelming stress? There are herbal sleeping treatments that can help a person release stress, rest, and relax.
To read about my 3 favorite herbs to release stress, relax, and get a good night's rest.
---
• Michelle Clay • burnout • relax • relaxation • stress management
Many people tell me they can't relax because they have too much on their plate. Burnout often is the result of the inability to balance daily obligations and the stress response is activated constantly. The stress response or the 'fight or flight' response can be calme...
---
• Michelle Clay • Japanese tea ceremony • me time • relax • relaxation • self care • stress management
Now that summer vacation is winding down and the children are returning to school, creating "me time" and moments to relax can be challenging. Before the hustle and bustle returns in full swing, it would be beneficial to create a ritual for your relaxation an...
---
• Michelle Clay • relaxation • stress management • technology • wellness
Technology is a double-edged sword. It can make your life easier with convenience and accessibility, or contribute to your stress and burnout. But too much of anything can become our detriment. In the case of technology, its overuse are associated with higher stress le...