• Michelle Clay • allergies • essential oils • ginger • green tea • herbal tea • seasonal allergies • tea • turmeric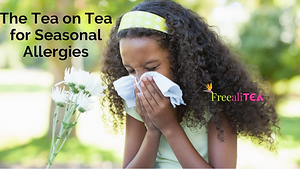 It's spring, one of my favorite times of year. I love hearing the birds sing melodic songs like a heavenly choir and watching the flowers bloom. 
But for those with seasonal allergies, it's hard to enjoy the beauty when your eyes are running or itching and you are sneezing constantly! Since I am a naturalista I have to look to the herbs and plant technology. 5 natural things to get through allergy season: turmeric, ginger, green tea, Release & Relieve tea, essential oils...
---
• Michelle Clay • cancer prevention • green tea • health • herbal tea • stress managemnt • stress release • tea • wellness
Greetings Tea lovers! It's time to spill the tea, or drink the tea☕ on ways you can use herbs to release stress and recharge health. Today we're going to explore green tea and how it can help you create a stress-FREE reality one cup at a time.. I'm a newbie to the green tea game. I just started drinking it about 2 years ago when my Gynecologist and a Geneticist told me I had a significantly higher risk of developing breast cancer. Thank God there are no detectable lumps and all of my mammograms have been normal. But they wanted...
---
• Michelle Clay • anxious • mindset • quarantine • safety • stress • wellness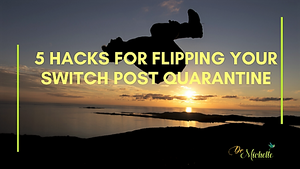 Depending on where you live, the #stayathome order has just been lifted and we are now on #safestathome. For those who are starting to venture out for the first time in a while, your mind has to "flip the script" so to speak. It takes flipping a switch in our mindset.
Everyone is talking about returning to "normal". I encourage you to create your own NEW normal which can help the transition to post-quarantine life a little easier.
---
• Michelle Clay • focus • mindset • positive
Most of us can agree that positive thinking is important. It helps reduce stress, anxiety, and gives us a sense of calm. In uncertain times, we have to be certain about one thing, and that is ALL things work together for our good. 
Sometimes it is difficult to see the glass as half full and remain positive.
If you are struggling to stay positive and hopeful right now, try following these five tips: focus on things you can control. You can control things such as your thoughts, words, emotions, and rest.
---
• Michelle Clay • cleanse • cleansing • coronavirus • essential oils • health • healthy • immune system • well-being • wellness
With the frenzy to prevent being infected with the coronavirus, supplies are running low or out of stock Homemade items are usually better than store-bought items because you put your love, care and special touch on it. This hand sanitizer recipe contains lemon and tea tree (melaleuca) essential oils and a bit of coconut oil. 
At this time, stay vigilant in keeping yourself healthy by cleaning and cleansing both externally and internally. And 
CALM DOWN
!!! Do not allow yourself to get caught up in the hysteria and stress you out. We are exposed to more viruses and bacteriae than coronavirus on a daily basis and our 
immune system
 protect us.